Recipes
Dutch Chocolate Milk makes any recipe ridiculously delicious!
Never Too Much Dutch Chocolate Pudding
makes the world's most divine delicacies!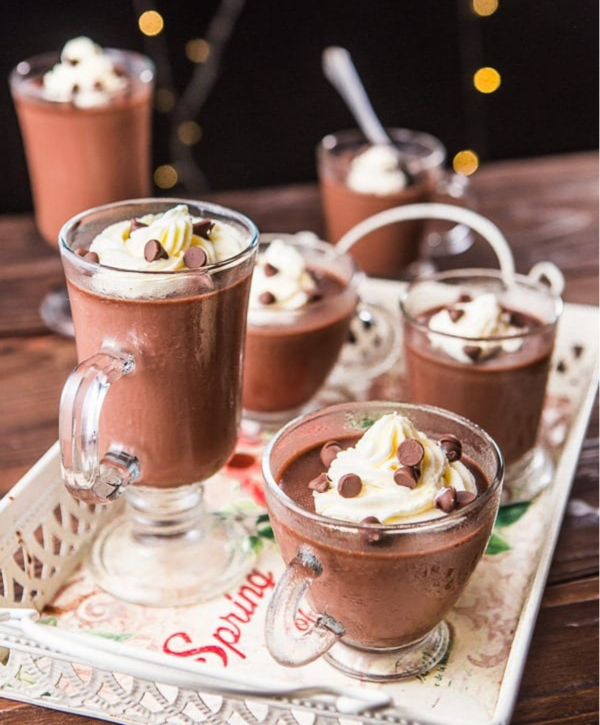 Never Too Much Dutch Chocolate Pudding
INGREDIENTS
32 oz Borden Dutch Chocolate Milk
6 oz Dark Chocolate bar for baking
4 tbsp Dutch Cocoa Powder
½ cup sugar
2 tbsp Gelatin Powder
1 cup water
2 tbsp Cornstarch (20g) sifted
Borden Heavy Whipping Cream for garnish
Milk Chocolate Chips for garnish
DIRECTIONS
In medium saucepan, heat Borden Dutch Chocolate Milk, dutch cocoa powder and cornstarch over medium heat.
Soften gelatin with water in a small bowl. Set aside.
Once the Dutch Chocolate Milk has heated, add sugar and dark chocolate, then mix until the chocolate has melted and the mixture is thoroughly combined.
Whisk constantly, cook the pudding over medium heat until it thickens and bubbles start to form along the sides of the pan.
Remove the saucepan from the heat, add gelatin and mix until the gelatin dissolved. Then transfer to a glass or ceramic container.
Refrigerate the pudding for at least 4 hours to set fully.
Before serving, top it with whipped cream and sprinkle the pudding with milk chocolate chips (optional).
Enjoy!